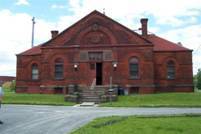 Click photo to enlarge
This is the location of the Hudson Mohawk Industrial Gateway in Troy, New York. In addition to being the home of a collection of Rototiller and Troy-Bilt equipment, it houses a sampling of the rich history of Troy. This building was the office for the Burden Iron Works, which made most of the horseshoes for the Union Army at the rate of nearly a million a week. If you are planning a trip to Troy, New York, or nearby, make sure this is included in your list of places to see. The Gateway is the ideal place to learn all about the rich history of Troy, like the hull armor for the Monitor, the hook-headed railroad spike, some of the most famous cooking and heating stoves ever made, the modern fire hydrant, and the lionís share of the bells cast in the New World.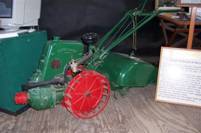 Click photo to enlarge
This is the oldest Rototiller, an A-1 s/n 21, built in 1938. This machine with many others represents a cross section of the tillers Rototiller and later, Troy-Bilt made there in Troy, NY.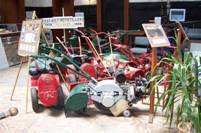 Click photo to enlarge
I had the opportunity to visit here in June of 2007. I met with several former employees of Troy-Bilt, including the long time sales manager and service manager. Two of these employees had fathers who worked for CW Kelsey, founder of Rototiller, Inc. I met the man responsible for making over a million hoods for the Troy-Bilt tillers. I sat in on a "round table discussion" of stories of Rototiller and Troy-Bilt over the years and how much they were dedicated to customer satisfaction. I saw the building where Rototiller got its start building tillers.
For more information go to their website at Burden Iron Works
For more photos from the museum, go to my My Photo Album